Leadership Newsletter
Financial Services & Technology
Fall 2015
GTCR Firm Update
Since the firm's inception in 1980, GTCR has partnered with management teams to build and transform growth businesses, investing over $12 billion in more than 200 companies. In January 2014, we closed GTCR Fund XI, the firm's largest fund to date, with $3.85 billion of limited partner equity capital commitments. To date, we have made five investments in Fund XI.
Financial Services & Technology Group Update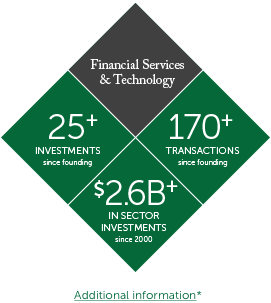 GTCR's Financial Services & Technology group has stayed very busy in 2015: with the sale of three portfolio companies, Premium Credit Limited, Fundtech and AssuredPartners; the pending sales of Ironshore and The Townsend Group; and the acquisition by Opus Global of Alacra, a provider of KYC compliance workflow software to financial institutions.
Industry Viewpoints
During the extended bull market since the Great Recession, "fintech" has become one of the hottest segments of the economy in terms of media and investor focus. The space has received intense media attention and an influx of capital from venture capitalists and traditional strategic buyers looking to avoid falling behind the curve. Unlike many industries where wholesale technology changes can quickly upend a traditional landscape, financial services requires a more nuanced evolution of technological progress given heightened regulatory requirements, dependence on human capital and the need for trust in financial markets. Many new entrants in the fintech space (both companies and investors) have focused heavily on the "tech" and less on the "fin." Unlike many new investors in the space, GTCR sees technology not as a separate subsector but as an integral part of financial services, and we have been investing behind the adoption of technology throughout the industry for over two decades. In this heated and competitive environment, GTCR has invested in companies that are not just technologically innovative but also critical to their clients and create a network that benefits the broader ecosystems in which they participate. Optimal Blue's pricing and product eligibility hub sits at the center of a network of more than 1,500 mortgage originators and investors, providing real-time data that is critical for the mortgage origination infrastructure. Likewise, Callcredit is building a differentiated software-as-a-service ("SaaS") suite of real-time consumer credit and fraud data and analytics products, as well as enhancing the delivery and workflow tools for those products with its Numero acquisition. Similarly, Opus provides third-party management and know-your-customer ("KYC") solutions that are at the intersection of technology and regulatory trends and that provide clients with streamlined, centralized and auditable workflows related to critical compliance activities. Our two recent platforms, RevSpring and Sage Payment Solutions, each take advantage of technology integrations into fast-growing but highly regulated end-markets, such as healthcare, to create a differentiated value proposition. In the last two years, GTCR capitalized on the valuation environment to successfully exit seven portfolio companies. This environment creates unique challenges and opportunities for long-term investors. GTCR continues to seek investments across the financial services and technology landscape, and we believe our domain expertise and the GTCR Leaders Strategy™ will enable us to identify, execute and build upon these attractive platform opportunities.
FS&T Team Contact Information
Collin Roche
Managing Director
312.382.2214
collin.roche@gtcr.com
Aaron Cohen
Managing Director
312.382.2169
aaron.cohen@gtcr.com
Mike Hollander
Principal
312.382.2068
mike.hollander@gtcr.com
KJ McConnell
Vice President
312.382.2244
kj.mcconnell@gtcr.com
Matt Dennett
Vice President
312.382.2174
matthew.dennett@gtcr.com
FS&T Investments Since 2005
Callcredit Information Group
This newsletter is for informational purposes only. This newsletter is not an offer to sell or a solicitation of an offer to buy an interest in any private fund sponsored by GTCR LLC ("GTCR") or any of its affiliates, and was not prepared for existing or potential investors in such funds. This newsletter may not be relied upon in any manner as legal, tax or investment advice, and is not to be used for any investment purpose whatsoever. GTCR assumes no responsibility or liability for, and expressly disclaims any obligation or undertaking to update, the information contained in this newsletter.
For a complete list of all active and prior GTCR portfolio companies, please visit www.gtcr.com.
*This information represents the approximate number of platform acquisitions and add-on acquisitions, and the aggregate purchase price associated with such acquisitions, completed by GTCR's Financial Services & Technology Group since 2000, as of October 1, 2015. The actual amounts may exceed the amounts set forth above and, with respect to purchase price, include the amount paid by all investors in the applicable GTCR portfolio company. This information is for illustrative purposes only and reflects investments that were made across multiple funds during different economic cycles. This information does not relate to fund or portfolio company performance. Please click here for a complete list of all active and prior GTCR portfolio companies. See Terms of Use for important additional information.