Leadership Newsletter
Growth Business Services
Spring 2016
GTCR Firm Update
Since the firm's inception in 1980, GTCR has partnered with management teams to build and transform businesses, investing over $12 billion in more than 200 companies. In January 2014, we closed GTCR Fund XI, the firm's largest fund to date, with $3.85 billion of limited partner equity capital commitments. To date, we have made seven investments in Fund XI.
Growth Business Services Group Update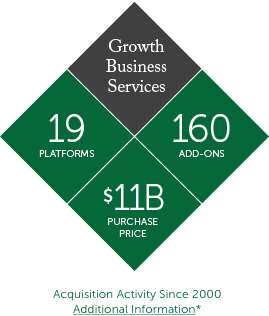 GTCR has invested more than $2 billion in the Growth Business Services ("GBS") sector since 2000. GTCR's GBS group stayed very busy in 2015 with the sale of two portfolio companies, Protection 1 and AssuredPartners; the acquisition of Park Place Technologies and Fairway Outdoor Advertising; and the recapitalization of Sterigenics.
Below is a snapshot of our GBS portfolio company new investment activity in 2015.
| | | | |
| --- | --- | --- | --- |
| Fairway Outdoor Advertising | Outdoor billboard advertising | Kevin Gleason | Partnered with Adams Outdoor Advertising management to acquire Fairway in January 2015 |
| Park Place Technologies | Third-party maintenance provider | Ed Kenty | Platform acquisition completed in December 2015 |
| Sterigenics International | Contract sterilization services | Michael Mulhern | Recapitalization and one add-on acquisition |

Protection 1
In July 2015, GTCR closed the sale of security service provider Protection 1 to Apollo Global Management.



Since GTCR and CEO Tim Whall completed the initial acquisition in 2010, Protection 1 materially strengthened the customer experience and improved customer retention in the company's core business. In addition, the company successfully expanded into new residential and commercial sales channels through strategic acquisitions and select additions to its management team.

AssuredPartners
In October 2015, GTCR closed the sale of insurance brokerage and outsourced risk management services firm AssuredPartners to Apax Partners.



In executing its Leaders Strategy™, GTCR partnered with long-time insurance brokerage industry leaders Jim Henderson and Tom Riley to form AssuredPartners in 2011. Mssrs. Henderson and Riley have more than 50 years of combined experience in the insurance brokerage industry, with specific experience in building a national broker through acquisitions and organic growth. Since its formation in 2011, the company completed over 100 acquisitions, becoming one of the leading middle-market insurance brokers in the United States.

Fairway Outdoor Advertising, Duncan, SC
CEO: Kevin Gleason
Platform Acquisition: January 2015
In January 2015, GTCR partnered with Adams Outdoor to acquire Fairway Media Group ("Fairway"). Fairway is the fourth-largest outdoor advertising company in the United States and operates approximately 20,000 bulletins, posters and digital displays across key metro areas in the Southeast, Southwest and Midwest. Since 1934, Fairway has built a hard-to-replicate footprint of high-quality assets across its core markets.
As a creative extension of our Leaders Strategy™, GTCR partnered with Adams Outdoor and its CEO Kevin Gleason and CFO Abe Levine. Mr. Gleason and Mr. Levine are seasoned veterans of the outdoor advertising industry, having led Adams Outdoor for the past two decades. GTCR believes that a significant opportunity exists to build upon Fairway's attractive but under-marketed asset base and substantially enhance the company's earnings through improved sales, marketing and operational strategies. Fairway continues to evaluate strategic options to optimize its asset footprint, including potential swaps and acquisitions across select markets.

Park Place Technologies, Cleveland, OH
CEO: Ed Kenty
Platform Acquisition: December 2015
In December 2015, GTCR acquired Park Place Technologies ("Park Place"). Park Place is a leading third-party maintenance ("TPM") provider offering post-warranty data center maintenance services to client locations around the world.
GTCR partnered with CEO Ed Kenty and the current Park Place management team as they continue to grow and develop the company's service offerings and geographic footprint. Founded in 1991, Park Place has grown to become one of the largest TPM providers in North America with global delivery capabilities and expertise across all major OEMs. The company currently services over 170,000 pieces of equipment across more than 5,000 customers.
GTCR is partnering with Park Place at an exciting time in the company's evolution. Park Place established its first physical operations outside of North America in 2015. In addition, the company completed its first acquisition in a decade in 2014 and continues to identify opportunities to expand its geographic coverage, customer end-markets and service capabilities.

Sterigenics International, Deerfield, IL
CEO: Michael Mulhern
Management Partnership/Platform Acquisition: March 2011 | Recapitalization and Fund XI Reinvestment: May 2015 | Recent Transaction: August 2015
In 2011, GTCR partnered with Michael Mulhern, the successful CEO of two previous GTCR services investments, including AmSan Janitorial Distribution, to acquire Sterigenics, the leading global provider of contract sterilization and ionization services for medical devices, food products and other advanced applications. Sterigenics provides comprehensive outsourced sterilization services to its customers through a network of 40 sterilization facilities across all major global geographies.
In August 2014, Sterigenics closed the acquisition of Nordion Inc. ("Nordion," NYSE:NDZ), a global health sciences company that provides radioactive cobalt for the sterilization of medical devices and also a portfolio of medical isotopes for clinical use in healthcare facilities. The acquisition of Nordion created the only vertically integrated sterilization services company in the world.


Since the initial transaction, Sterigenics has experienced significant business transformation. The management team has grown and improved the platform with operational enhancements, investments in additional capacity and the execution of highly strategic acquisitions, including the acquisition of Nordion.
In May 2015, GTCR recapitalized Sterigenics in partnership with Warburg Pincus and Sterigenics' management team. GTCR reinvested $315 million from its new Fund XI in this transaction.
In August 2015, Sterigenics acquired São Paulo, Brazil-based Companhia Brasileira de Esterilização ("CBE"), the largest Latin American specialist in sterilization and microbial load reduction. The acquisition of CBE broadens Sterigenics' global footprint and enhances its best-in-class capabilities to serve customers and compete for new sterilization services business.
Sterigenics continues to leverage and expand its global network of service centers to better serve existing and new customers. The company is seeking additional acquisitions in the sterilization market, as well as in the broader medical device services market.
Associate
Brett Rocheleau joined GTCR in 2015. Prior to GTCR, he worked as an Investment Banking Analyst in the Financial Institutions Group at Credit Suisse. Brett graduated summa cum laude from the University of Notre Dame with a BBA in finance and applied mathematics.
GBS Team Contact Information
GBS Investments Since 1994
Accretive Solutions | American Sanitary | AssuredPartners | Automated Correspondence | Bush Corporation | Cambridge Protection Industries | Cardinal Logistics Management | Cherrydale Farms | Classic Media | Clicklogistics | Coinmach | Convergence | Esquire Communications | Excelerate Marketing | Fairway Outdoor Advertising | ForeFront Education | Frontline Group | Golden Gate Logistics | Hawkeye Communications | Heritage Golf | HSM Electronic Protection Services | Intecap | Invenergy Hardee | Ironshore | Landmark Aviation | Lason Systems | Leapsource | Lighthouse | National Equipment Services | NSC Communications Corporation | Outsource Partners | Park Place Technologies | Protection 1 | Proximus | Risk Management Alternatives | Sterigenics International | Student Transportation of America | Synagro Technologies | Syniverse Technologies | US Fleet Services | VecTour (formerly Travelways) | Wallace Theater
This newsletter is for informational purposes only. This newsletter is not an offer to sell or a solicitation of an offer to buy an interest in any private fund sponsored by GTCR LLC ("GTCR") or any of its affiliates, and was not prepared for existing or potential investors in such funds. This newsletter may not be relied upon in any manner as legal, tax or investment advice, and is not to be used for any investment purpose whatsoever. GTCR assumes no responsibility or liability for, and expressly disclaims any obligation or undertaking to update, the information contained in this newsletter.
For a complete list of all active and prior GTCR portfolio companies, please visit www.gtcr.com.
*This information represents the approximate number of platform acquisitions and add-on acquisitions, and the aggregate purchase price associated with such acquisitions, completed by GTCR's Growth Business Services group since 2000, as of November 1, 2015. The actual amounts may exceed the amounts set forth above and, with respect to purchase price, include the amount paid by all investors in the applicable GTCR portfolio company. This information is for illustrative purposes only and reflects investments that were made across multiple funds during different economic cycles. This information does not relate to fund or portfolio company performance. Please click here for a complete list of all active and prior GTCR portfolio companies. See Terms of Use for important additional information.